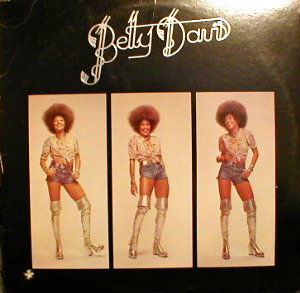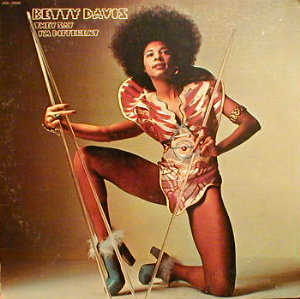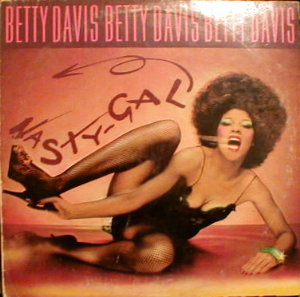 Betty Davis: Game Is Her Name
---
Betty Mabry Davis doesn't sing. She singes. She leaps off the page, tears into your face, rips scars with her growls, screeches and hollers. She is equal parts terror, fury and seduction mixed, shaken and uncorked, the force of a woman scorned who doesn't miss love's passing but mocks it, daring it to cross her threshold again.

She is a child of the blues, ex-wife of jazz, first lady of funk, an enigma of an artist who scorched through the music scene for half a decade only to vanish into a mist of rumors about drug overdoses and untimely deaths.

For some, Betty Davis is little more than footnote, citing how one Betty Mabry turned into Mrs. Miles Davis for one short year between 1968 to 1969. Jazz aficionados credit her with little more than being a visage, gracing the cover of Miles' Filles de Kilimanjaro and the inspiration behind that album's lilting soul ballad "Mademoiselle Mabry" A select few also remark that she's the source behind another Miles Davis song, "Back Seat Betty" (1981). But for almost all of the historians and critics, that's where the story ends. Betty Mabry Davis is reduced to a slim reference in a biography, a brief love affair between a 48 year old jazz giant and a 23 year old model. But few could imagine what kind of aftershocks Betty would set off after her legal break from Miles.

You dragged
My name in the mud
All over town.

I'm gonna tell åem why.

You said
I didn't treat you
I didn't know you
I didn't love you.
(well)

But you know you lied,
yes you did,
I used leave you hanging
in the bed
by your finger nails
scratching.
I ain't nothing but a
nasty gal. ' "Nasty Gal" from Nasty Gal (Island 1975) [click title to hear song]

More than just a cover photo and a song title, Betty helped plant the seeds Miles future musical explorations by introducing the trumpeter to a young guitarist named Jimi Hendrix. Jimi's friendship with Miles helped open the trumpeter up to new ideas about the sound of jazz. Rumor has it that Jimi and Betty had an affair that hastened the end of her marriage, but Jimi and Miles stayed close and in 1970, the jazz leader realized just where his music and Jimi's could intersect. Miles' Bitches Brew changed jazz irrevocably, ushering in the era of fusion. While no one mentions where Miles got the title from, you wonder if Miles wasn't subtly playing tribute to the woman whose intersecting relationships helped spur the album's genesis. It's hard to say how many of Betty's songs were in turn inspired by Miles ' he did, after all, pen two odes to her, and it's easy to imagine that he's the target of Betty's ever-present, ever-ambiguous "he". But whoever "he" was, he seemed to have plagued Betty, teased and bothered her even as she smacked him to the ground, whipping him "with my turquoise chain."

When I was his woman
I pleased him,
I'd lead him
to the tip.

When I was his mistress,
ooh, ooh
I gave him
cheap thrills.

When I was his princess,
silk and satin and lace
I'd wear for him.

He was a big freak!
flim,
flam,
floosy,

Fantasy. ' "He Was a Big Freak" from They Say I'm Different (Just Sunshine 1974)

Despite their short marriage, Betty kept her ex-husband's surname and beginning in 1973, she began to roll out a series of three amazing albums, beginning with the self-titled Betty Davis. Her album covers for Betty Davis, They Say I'm Different and Nasty Gal were outrageously flamboyant, already distinguishing Betty from the conventional soul singers of the time. She went from rocking Daisy Duke shorts and cosmic go-go boots to an Afro-futurist Egyptian costume to jet black fishnet stockings with matching teddy. On all three covers, Davis wore an Afro loud and proud, big enough to intimidate Dr. J, reflecting an excess of personality that was unavoidably visible in sight and sound.

I said if I'm in luck,
I just might get picked up.
I said I'm fishin' and trickin'
and you can call it what you want.

I said I'm wiggling my fanny
(oh ho man)
I'm raunchy
Dancing
I'm moving it
Moving it
Try no
I'm a
doing it
doing it
(get down)
this is my night out. ' "I Just Might Get Picked Up" from Betty Davis (Just Sunshine 1973)

Funk had already seen many domineering femme fatales, especially the trio of leading ladies from James Brown's extended family ' Vicki Anderson, Lyn Collins, and Marva Whitney. Yet while all three packed powerful lungs, belting out funky soul classics like Anderson's "Answer to the Mother Popcorn", Collins' "Think" and Whitney's "It's My Thing", none came close to Betty's signature vocal style, a mix of hoarse whispers, raucous screams and a touch of ecstasy/agony. She was the gut bucket blues compared to Motown's sweet soul, a rough and rugged alternative to the soul divas like Aretha, Gladys and Roberta. Betty wasn't singing about "Ain't No Mountain High Enough", she preferred toiling in the trenches, reflecting a blues aesthetic that made her soul and funk closer in kin to Robert Johnson, Albert King and Bo Diddley rather than Marvin Gaye, Al Green or Smokey Robinson. Where the soul singers emoted, Betty's blues inflicted, powered by a voice that beat you up, shook you down and left you begging for more.

They say I'm different
åcause I'm a piece of sugarcane
and when I kick my leg
I got rhythm.
My great grandpa
was a blues lover
he'd be rocking his moonshine
to B.B. King and Jimmy Ray. ' "They Say I'm Different" from They Say I'm Different

What made Davis funky wasn't just the grit in her tone, it's how she played with your expectations, toying with them. She'd stretch her voice out and then snap it back like a rubberband, switching up her vocal tempo, challenging her rhythm section to follow as she barreled forward. It was no gentle touch but it was a finesse job all the way, expertly pushing you where Betty wanted to take you. Her backing bands came with funk as elastic as her voice, rolling in thick basslines, anchored by driving drumbreaks. She dabbled with the warm splay of a keyboard, the thunderous roar of guitars but no matter what, she kept the mood crackling with rhythmic aggression as the music's call demanded your backbone's response.

Music men,
everywhere.
grab your life,
Don't you stop playing
Get funky like a skunk
Do you hear what Betty's saying?
Play anything that you want to
long as you get
down,
down,
down,
down,
down.
Git in there! ' "Git In There" from They Say I'm Different

What's striking about Betty's songs is that so much of them dealt with love but with little sentimentality. Unlike her soul sisters at Motown or Atlantic, there's almost no wide-eyed ballads, no naive queries about the nature of love. For her, love ' and sex ' were games to be played and won and Betty was determined not to lose.

I'm going to do it until the cows come home

And when my goose gets loose
she's gonna know
I'm still be getting it on
With him around, now
(move it, move it)


I'm going to move it
slow
like a mule
(go on and move it girl)
I'm going to love him funky, free and foolish,
I'm going to do my best
and try hard to get him.
Ain't he fine?

Just take a look at that child,
ain't he fine?

He's ånuff to drive a poor girl wild
Ain't he fine?
Take him in,
check him out,
I'm gonna!
(she's gonna love him, she's gonna love him) ' Shoo-B-Doop and Cop Him ' from They Say I'm Different

Betty's love songs were about the dark, secret sides of love ' lust, obsession, pain, rapture ' about the things that make love an addiction even when you know it's bad for. No other funkstress seemed to understand the shakes that love could give you better than Betty Mabry Davis. And no one could give you those shakes better either.

No I don't want to love you
åcause I know how you are
that's why I've been staying away from you
that's why I haven't called.

åCause I know you could possess my body
I know you could make me scrawl
I know you could have me shaking
I know you could have me climbing walls.

That's why I don't want to love you.
åcause I know how you are
Sure you say you're right on and you're righteous
but with me I know you'd be right off
Cause you know I could possess your body too
(don't cha)
you know I could make you crawl
and just as hard as I'd fall for you
(boy)
well, you'd know you'd fall for me harder
that's why I don't want to love you. ' "Anti Love Song" from Betty Davis.
---
(note: Betty Davis' first two albums, Betty Davis and They Say I'm Different have been re-released on CD for the first time. Visit http://www.dustygroove.com or your favorite music store to find them.
---
Written by Oliver Wang - (c) 2001
Back to Main