Kanye West: All Falls Down (original mix)
Deleted from College Dropout (Roc-A-Fella, 2004)

Imagine you're Lauryn Hill. You've gone from one being one of hip-hop's greatest artists ever to landing somewhere between an enigma and a joke. Your career is so far gone that kids think "Doo Wop" is old school now. One day, Kanye West, one of the hottest producers in the game, calls you up and says, "hey, I've made this conscious song about the contradictions about being black and having class aspirations, blah blah blah and I really want to sample your song from the Unplugged album - you know, that double-LP that effectively destroyed your career? Anyways, I want to redeem it by making this really dope song using your voice, is that ok with you?" Somehow, you decide "no," thereby forcing Kanye to hire a sound-alike in the form of Syleena Johnson, a perfectly good Hill knock-off but the point is that she's a knock-off, not the real deal.

The song above is the original mix, using the Lauryn Hill sample, as it appeared on the early promos for Kanye's album. In the opinion of most, includes yours truly, it is the considerably superior version simply because Lauryn just sounds better. You decide.
(The song has been bootlegged onto white label vinyl)



Ghostface Killah (w/ Raekwon, Rza and Slick Rick): The Sun
Deleted from Bulletproof Wallets (Epic, 2001)

Another victim of sample clearance, this song was supposed to kick off the Bulletproof Wallets album. Simply put: one of the greatest rap songs ever recorded, so good that even the comic strip The Boondocks quote it in one Sunday panel. Honestly, when's the last time you heard a song about how great the sun is. Exactly.
(The song still appears on promo versions of the album (both CD and vinyl) and has also been bootlegged onto white label vinyl)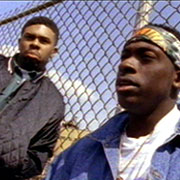 Pete Rock and CL Smooth: One In a Million
From Poetic Justice OST (Sony, 1993)

Possibly the only good song off the entire Poetic Justice soundtrack, this semi-obscure Pete Rock and CL Smooth song is one of their best from the era. As usual, Pete shows off a great ear for samples by lifting "Electric Surfboard" from organist Jack McDuff, milking the familiar horn signature from McDuff's song to full effect. Damn, I gotta stop - I'm getting mad nostalgic...