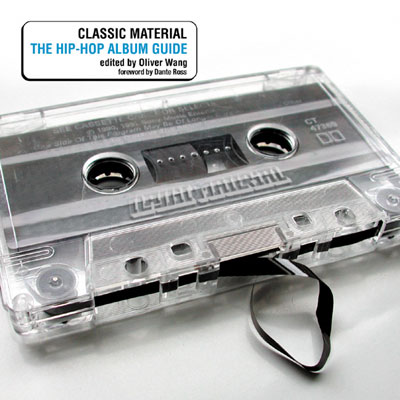 CLASSIC MATERIAL: THE HIP-HOP ALBUM GUIDE


(On ECW Press, May 2003)
With over 40 unique reviews covering 80 landmark hip-hop albums, Classic Material proves that there is no lack of intelligent commentary and criticism on rap music. Written by an impressive team of North America's most talented journalists, the book tackles over 20 years of hip-hop recordings.
"From Gang Starr to Juvenile to OutKast to Too $hort and beyond, Wang and his fearless companions break down only the most blood-boiling, soul-shaking albums hip-hop has ever created. A guide for the lost as well as for the learned, CLASSIC MATERIAL is more than a map: it's a mission, should you choose to accept it."
-Danyel Smith (author of More Like Wrestling, former editor of Vibe)
"From banging funky drummers to noisy black futurism, Afrika Bambaataa to the Wu-Tang Clan, the passionately constructed criticism in CLASSIC MATERIAL is as exciting as the music it documents"
-Michael Gonzalez (co-editor of Bring the Noise)
"Like a deep-space freighter stuttering across a black hole's gravitational warp, hip-hop swerved from its expected course with every relesae in this collection. Leave it to Oliver Wang then, and his company of able, passionate scribes to recall those startling moments of artistic dissent. As they do, keep in mind that the recordings here are more than milestones. They are sacred. They are profane. They are the dark, roiling mass of a restless universe. Alive. Unrelenting. Infinite in all directions."
-Harry Allen (Hip-Hop Activist and Media Assassin)
---
Albums reviewed include:

Afrika Bambaataa's Looking For the Perfect Beat
Boogie Down Production's By All Means Necessary
Common's Resurrection
The Coup's Genocide and Juice
Dr. Dre's The Chronic
Eminem's Slim Shady LP
The Fugees' The Score
Gang Starr's Step In the Arena
Jay Z's Reasonable Doubt
MC Lyte's Lyte as a Rock
Nas' Illmatic
OutKast's Aquemini
Public Enemy's Fear of a Black Planet
Raekwon's Only Built 4 Cuban Linx
Slick Rick's The Great Adventures of Slick Rick
Too Short's Born to Mack
...and over 60 others.
The team of writers assembled for this project include some of the best talents in music journalism today including:

Jeff Chang (SF Bay Guardian, author of the forthcoming Can't Stop, Won't Stop)
Dave Tompkins (Wire, Grand Slam, author of the forthcoming Reason For a Nice Day)
Hua Hsu (URB, Village Voice)
Jefferson Mao (Ego Trip, XXL)
Ernest Hardy (LA Weekly)
Joseph Patel (Blender, Complex, ESPN)
Jon Caramanics (Rolling Stone, Boston Phoenix)
Elizabeth Mendez Berry (Vibe)
Tony Green (Village Voice, Baltimore City Paper)
Melissa Maerz (City Pages)
Reginald Dennis (The Source, XXL)
David Toop (author of Rap Attack)
Peter Shapiro (author of The Rough Guide to Hip-Hop)
and others.
Writing the foreward is none other than Dante Ross, former Tommy Boy A&R and the main behind such legendary hip-hop albums as De La Soul's Three Feet High and Rising and Brand Nubian's One For All writes the foreward. And as for the editor of the book, that'd be me, Oliver Wang, and over the years I've written for the SF Bay Guardian, LA Weekly, Minneapolis City Pages, XXL, The Source, URB, Spin, Vibe and other publications.

Read the reviews!
John Book.Com
more to follow...
---
(C) 2003