O's Dub Vol 9: Double Flip
---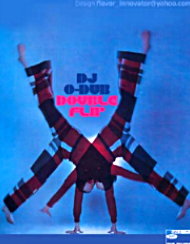 Background: Double Flip is the 9th volume in a series of mixtapes begun in 1994. Since its humble beginnings on a Tascam 424, dubbed on a home deck with Price Club bought blanks, the O's Dub series has grown into a professionally-duplicated, digitally-mastered project of upmost musical quality. Recent volumes have earned high praise among critics: Incognitos Vol. 1 (an O's Dub off-shoot) was raved on in Wire Magazine, Bay Area rap critic Billy Jam called Polyrhythmatic (Vol. 8) one of the "best mixtapes of 1998" and 1997's Headwarmers (Vol. 6) received top marks in URB Magazine. At two hours, two tapes, and over 70 songs, Double Flip is the most ambitious volume yet and sure to please fans of DJ O-Dub's older work.

Mixtapes that put the "mix" back into the tape, O's Dubs doesn't rely on egregious publicity shout-outs or annoying, ego-trippin' mic breaks. Exclusives are nice, but superior musical selection and sublime segues are nicer still. The O's Dub series is not didactic in its concept ' major and independent labels get equal time, there's no coastal parochialism, and surprise lurks around every corner. Double Flip is no exception ' more than a year in the making, DJ O-Dub has taken his pick of the best songs from 1999 and 2000 and spliced it all together with an attention to vibe and verve.
---
TAPE 1 - Off the Cuff
Side A:
nobody beats the wiz
Slum Village: Don't Sell Yourself
Q-Tip: Let's Ride
Nextmen w/ Grap Luva: Break the Mold
Unsung Heroes, Siah & Yeshua: Transatlantic
Apani B Fly Emcee: Narcotic
Mountain Brothers: Days of Being Dumb
Makemba Mooncycle & Talib Kweli: Lunchroom Classics
Lone Catalysts: Due Process
Kardinal Offishall: U R Ghetto When
K-Otix: World Reknown
Mass Hysteria: Exclusive
Obscure Disorder w/ Ill Bill: 2004
Ripshop: Crabfakers
Brassmunk: One, 2
Pharoahe Monche: Livin' It Up
Large Pro & Neek the Exotic: Rhyme Mania å99
Mos Def and Talib Kweli: Another World

Side B:
out of the fog intro
Animal Pharm w/ Aceyalone: You Will Lose rx
Aceyalone: Gimme Five Feet
King Tee: Cali Expert
Kazi: Called Your Bluff
7L and Esoteric: State of the Art
Ben Buford: Hitman 4 Hire
Dilated Peoples: Triple Optics rx
Divine Styler: Make It Plain
Akrobatik: Say Yes, Say Word
Masta Ace: Observations
Screwball: H.O.S.T.Y.L.E.
Cocoa Brovas: Super Brooklyn
Ugly Duckling: Put It On You
Jay Z: It's Like That
Slick Rick: I Sparkle
Common: The Light
KMD w/ Kurious: Stop Smokin' That Sh*t
keep on rockin'
Tony Touch w/ Mos Def and De La Soul: What's That?
ATCQ: Electric Relaxation rx
Quannum f. Lyrics Born: I Changed My Mind rx
80 West
TAPE 2 - Saturn's Return

Side A:
radio promo
Burnt Batch: I Don't Know
Ugly Duckling: Journey to Anywhere
Herbaliser w/ Latyrx: 8 Pt. Agenda
Jurassic 5: Concrete and Clay
SDM: Never-Ending
OD w/ Freestyle Fellowship: Can You Findä?
Casual: I Got To (Get Down)
turning mcs into refugees
Dilated Peoples: Strength
Defari: Say It Twice
Motion Man: Duck Duck
Aceyalone: Rappers, Rappers, Rappers
PUTS: Code Check
Barbershop MCs: Music, Money, Women
Fat Lip: What's Up Fat Lip?
Quasimoto: Boom Music
Sound Providers: Get Down
Cali Agents: The Good Life
Breakestra: Getcho Soul Togetha

Side B:
stimulation proclamation
Jurassic 5: Quality Control
Lyrics Born: Always Fine Tuning
Saukrates: Action
Checkmate: Longshot
Butta Babees: The Science
Truth Enola: Songstress
Agallah: Crookie Monster
dustin' crops intro
Common: The 6th Sense
Rah Digga: Lessons of Today
Afu Ra: Mic Check
De La Soul: Oooh!
Styles: Fresh Air
Joey Chavez: Worldwide II
Erule: The Real Me
Big L: On the Mic
Pep Love: Act. Phenom
Big Dro: Spank
Sound Providers: Yes Ya'll
(for extended liner notes including song descriptions, click here)
Who gets the props?
---
Listen or download.